Will you be making a gift box or lantern from this super versatile Gable Box Die Set? You'll end up with a pretty box whatever you decide to make with it.
This gable box die comes together super fast and comes with layered mat dies and accessories to decorate your box. It's so easy to make it look special and will be perfect as a gift box, lantern, or a table decoration. You can even put a weighted object inside and use it as a pretty balloon anchor.
If you are making a lantern, you will be needing to use one of the trellis die sets that have been designed to fit into the side of this box. You will also be needing some micro wire lights to pop inside. I have a supply list down below so you can find everything you need to get you started.
I am absolutely in love with this die set and so were the viewers when this box launched on Hochanda at the beginning of this month. It sold out before the show was finished! But luckily I was able to demonstrate the assembly before it went!
I hope you enjoy today's tutorial! 
Want to stay up to date with my projects and news? please join my email list HERE. You will only receive notifications on my latest posts, and nothing else.
Helen x
Supplies

GET 20% OFF YOUR FIRST ORDER WITH CRAFTSTASH WHEN YOU SIGN UP TO THEIR FREE NEWSLETTER
FREE UK delivery on orders over £15
FREE US shipping on orders over $70
FREE CANADA shipping on orders over $85
——- INTERNATIONAL POST AVAILABLE AT CRAFTSTASH——–
NEW US Craft Stash website – Click HERE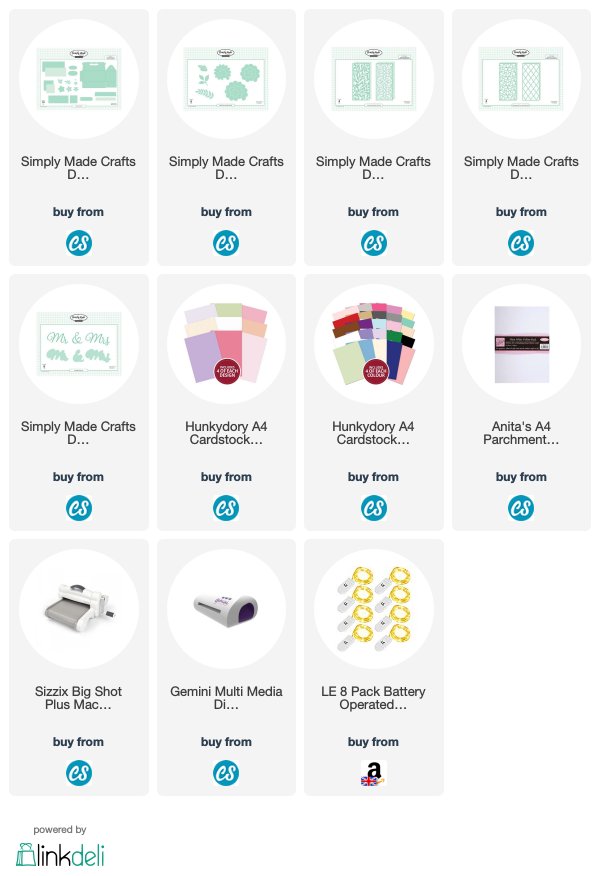 —- D I S C L A I M E R —- Some links are affiliate and do not cost you extra. Using them will support future projects that I bring to my Youtube channel & website. Many thanks for your continuing support