With Christmas just around the corner, here are the next few episodes in this series. 
6th Day of Christmas | Fun Party Wear for Christmas & New Year
These fun and easy hairband makes will be so much fun to wear this Christmas or New Years! I simply turned a set of 5 inexpensive hairbands into fun accessories to wear – these will really be a talking point!
Cutting Guide
Small Hat
Hat side 6″x 3″ – Score at 1/2 top and bottom
Top Circles 1 3/4″
Bottom Circle 2 5/8″
Big Hat
Hat Side – 9 1/2″x 3″
Top Circles 3″
Bottom Circle 4 1/2″
7th Day of Christmas | Loaded Paperbag Pocket Pouches
These bags are so easy to make, in any size too! I've used a fantastic digital paper collection from Nitwit Collections to decorate these bags and the details are listed down below.
8th Day of Christmas | Guest Room Door Hanger Pillow Boxes
A simple way to turn a pillow box into a door hanger. In this video I turn the large pillow box from Simply Made Crafts into a perfect way to leave your guests some extra gifts.
The next 4 videos will be shown after Christmas and we will be concentrating on documenting our Christmas memories. I'm hoping you all have a wonderful Christmas and I will see you all again very soon!
Helen x
Supplies

GET 20% OFF YOUR FIRST ORDER WITH CRAFTSTASH WHEN YOU SIGN UP TO THEIR FREE NEWSLETTER
FREE UK delivery on orders over £15
FREE US shipping on orders over $70
FREE CANADA shipping on orders over $85
——- INTERNATIONAL POST AVAILABLE AT CRAFTSTASH——–
NEW US Craft Stash website – Click HERE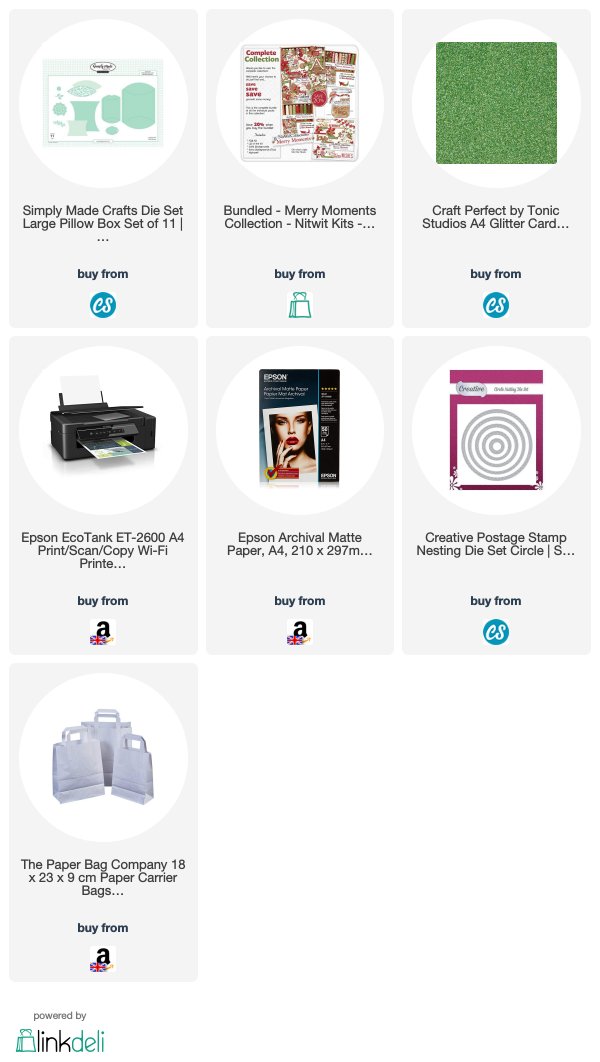 —- D I S C L A I M E R —- Some links are affiliate and do not cost you extra. Using them will support future projects that I bring to my Youtube channel & website. Many thanks for your continuing support