Today, we are having a little fun in the craft room! We're making popcorn!!
These little boxes made from the Hexagon Basket die from Simply Made Crafts are perfect for making popcorn boxes. I've used a Christmas digital paper kit from Nitwit Collections called Christmas Farmhouse – the red stripe paper is perfect for these.
I've also used a popcorn machine – these are so fun to use and you don't need to add any oils or butter to cook them either! The one I bought a few years ago is no longer available, but I have some really cute ones listed below.
I hope you enjoy today's tutorial! There are still 8 more days to go!
Want to stay up to date with my projects and news? please join my email list HERE. You will only receive notifications on my latest posts, and nothing else.
Helen x
Supplies

GET 20% OFF YOUR FIRST ORDER WITH CRAFTSTASH WHEN YOU SIGN UP TO THEIR FREE NEWSLETTER
FREE UK delivery on orders over £15
FREE US shipping on orders over $70
FREE CANADA shipping on orders over $85
——- INTERNATIONAL POST AVAILABLE AT CRAFTSTASH——–
NEW US Craft Stash website – Click HERE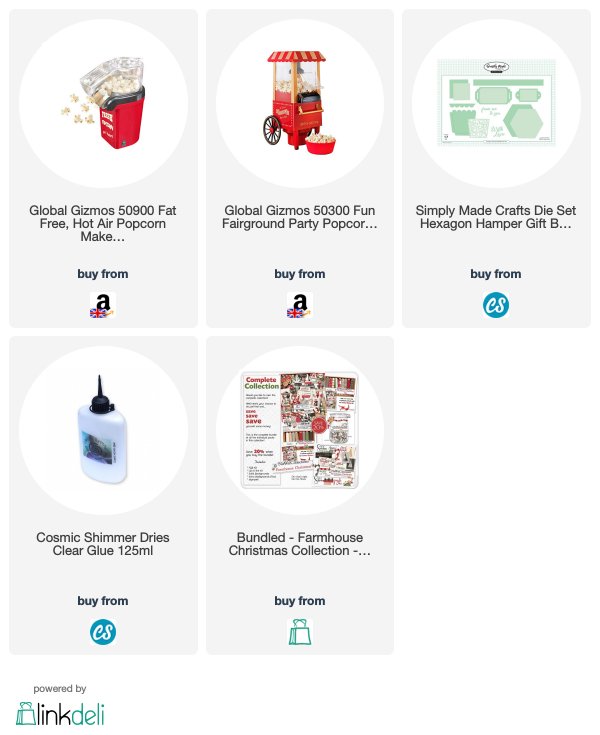 —- D I S C L A I M E R —- Some links are affiliate and do not cost you extra. Using them will support future projects that I bring to my Youtube channel & website. Many thanks for your continuing support