I'm really excited about today's project! It looks complicated, but I show you how to make it step by step.
The tree on the red car or truck is one of my favourite Christmas images, so I'm really happy I now have a decoration featuring it. And even happier that I made it myself! Watch the tutorial down below so you can make one too 🙂
View the rest of 12 Days of Christmas 2018 HERE.
Helen Xx 
Don't miss the rest of this series by subscribing to the blog HERE. I will also be releasing new updates on live show appearances and there's plenty more projects on the way, as well as projects for the Craft Stash website & YouTube channel.  I will never send spam or share your details – you will only receive notifications of new blog posts. 
Cutting Guide
Bottom box
Lid – 5 1/2″x 5 1/2″ (x1) & 5 1/2″x 3/4″ (x4)
Base – 5 3/8″ x 2 3/4″ (x4)
Middle box
Lid – 4 5/8″x 4 5/8″ (x1) & 4 5/8″x 3/4″ (x4)
Base – 4 5/8″x 2 1/4″ (x4)
Top box
Lid – 3 5/8″x 3 5/8″ (x1) & 3 5/8″x 1/2″ (x4)
Base – 3 5/8″x 1 7/8″ (x4)
Supplies
——- INTERNATIONAL POST AVAILABLE AT CRAFTSTASH——–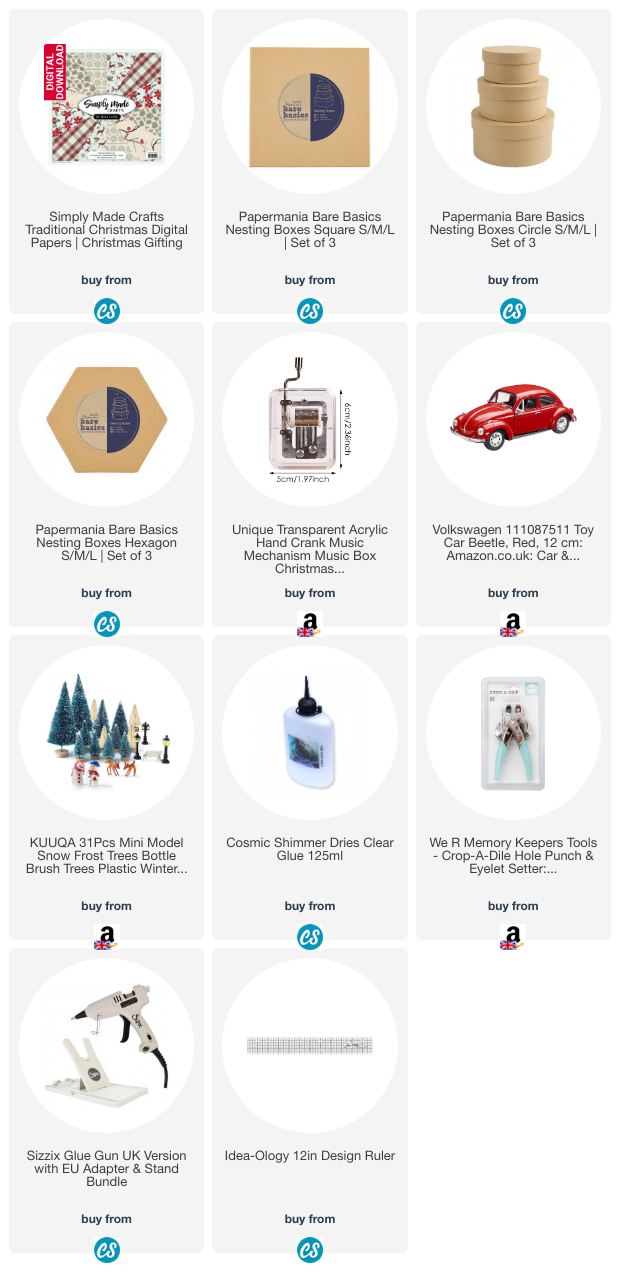 —- D I S C L A I M E R —- Some links are affiliate and do not cost you extra. Using them will support future projects that I bring to my Youtube channel & website. Many thanks for your continuing support