These cards look so pretty and cleverly made….but in actual fact are a doddle to make. We like easy, don't we? Here's how…
We're using an 8″x 8″ paper pad from First Edition Paper called Winter Wishes and this pad is ideal for all your winter themed projects, not just Christmas. All the dimensions and supplies are listed down below.
Dimensions
Double sided patterned paper – 8″x 8″ Score at 3.5″ in envelope punch board (no punching!)
Using normal scoring board, score at 7/8″ on each top left section
Belly band – 1.25″x 8″
Circles – 2″ & 1.75″
Envelope – 8″x 8″ – Score 4″ in envelope punch board
Catch Up
Day 1
Thank you for dropping by today. If you have enjoyed today's project, please subscribe to my blog on the right and/or my YouTube channel so you don't miss the rest of this series. You can also find me on Facebook and I'm happy to answer any questions you may have – I try to reply to as many comments as I can.
Helen Xx
Supplies
Making Cards Christmas Special – https://www.hobbies-and-crafts.co.uk/card-making/store/special-editions/making-cards-christmas-papercraft-special-2017-2017/
Silver heat embossing powder – https://www2.stampinup.com/ECWeb/ProductDetails.aspx?productID=109131
Tombow Mono Multi Liquid Glue – https://www2.stampinup.com/ECWeb/ProductDetails.aspx?productID=110755
Scissors – https://www2.stampinup.com/ECWeb/ProductDetails.aspx?productID=103579
Bone Folder – https://www2.stampinup.com/ECWeb/ProductDetails.aspx?productID=102300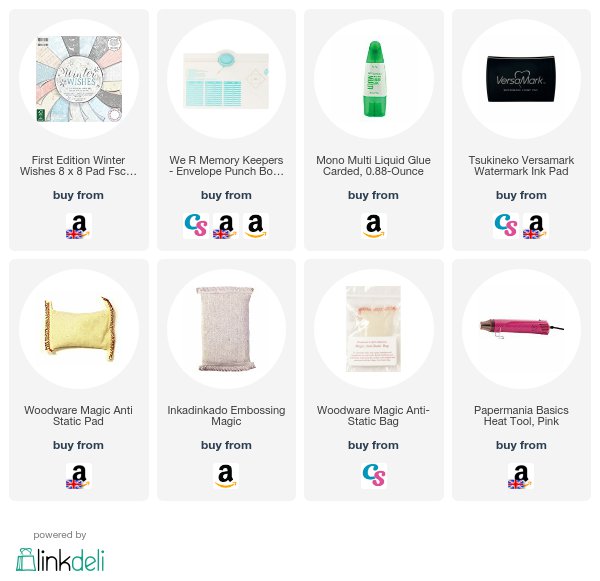 Some links are affiliate and do not cost you extra. Using them will support future projects that I bring to my Youtube channel & website. Many thanks for your continuing support